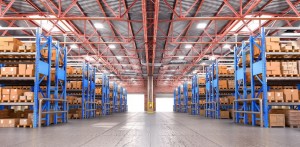 If you are the manager or owner of a manufacturing facility, you may have never considered hiring a professional janitorial service to clean your plant on a regular basis. The information in this guide will help you understand what our skilled janitorial staff can do for you and your building. Everyone will benefit from working in a more well-maintained space, from upper management to assembly workers. The service offerings that are detailed below are not an exhaustive list of what we can do for you. In fact, we will work with you to create a plan that is ideal for your manufacturing facility's unique needs.
We will clean the floors.
The flooring throughout your facility probably gets dirty on a daily basis. While this is unsightly, certainly, it can also be dangerous. If, for example, a liquid substance gets spilled on the floor and isn't cleaned up, your employees could slip and fall. Even dust can cause workers to lose their footing. Any employee injuries can lead to reduced morale and legal issues for your company. Furthermore, clean floors are simply more sanitary than those that are allowed to remain grungy and dirty.
We will remove old boxes and production materials.
It is not uncommon for manufacturing plants to have a lot of boxes and trash pile-up every day. Sometimes, these goods are not disposed of in a timely fashion. Our janitorial professionals will make sure that any items of this nature are recycled or otherwise gotten rid of appropriately. This will save you and your staff time and prevent stacks of boxes and garbage from forming in your halls.
We will make sure every room is clean.
Sometimes, when you're trying to keep a manufacturing facility clean and functional without professional help, it's easy to neglect spaces that aren't used all the time. This may include storage closets, server rooms, and even out-of-the-way bathrooms. Once you hire us, though, you can rest assured that all areas of your building will be cleaned and maintained to a high standard.
We will maintain your exterior too.
If you've been trying to keep up with your facility's cleanliness without a dedicated janitorial company's aid, the outside of the building has probably fallen by the wayside. We will make sure your manufacturing plant makes a good first impression by picking up litter, emptying outdoor trash cans, cleaning windows, and doing other similar tasks.
We look forward to hearing from you and are excited to create a schedule that works for your business. We take great pride in what we do, so you can trust that our team will work with the utmost professionalism and will keep your facility looking great for you and your staff every day.