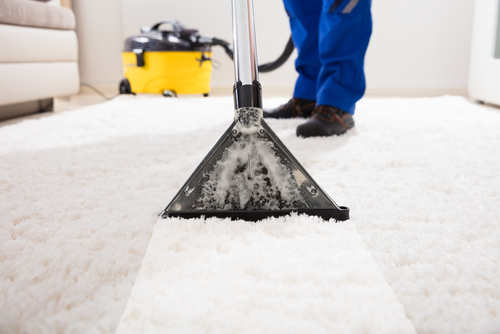 You may be surprised to find that cleaning your office carpet is a different experience than cleaning your carpet at home. Due to the attention to detail and specific products that are needed, it's highly recommended to call on the services of an experienced janitorial company who has the expertise to thoroughly clean your carpet. If you've been trying to save money by cleaning your office carpets alone, you could be damaging your office more by using the wrong products and techniques.
If you haven't yet contacted a commercial cleaning company in the Greater Boston Area, here's some advice from the professionals.
Deep Cleanings are Needed: While vacuuming consistently is a huge help, you won't be removing 100% of the debris. This means that any left-over debris and dirt gets into the carpet and tears away at the carpet fiber, in turn, degrading the carpet.
Carpet Does Not Need to be Visibly Dirty: Even if there isn't dirt or stains on the carpet, the carpet is still filthy if it's not cleaned daily. Because you see the carpet every day you most likely won't notice it deteriorating…your guests and clients will. Why risk having others notice a dirty carpet in your office?
Avoid a Traditional Stand Up Vacuum: Offices are crowded so vacuuming with a traditional upright vacuum that you use at home just won't cut it. A lightweight HEPA  (High-Efficiency Particulate Air) backpack vacuum that straps on your back is ideal for spaces filled with desks, bookshelves, furniture, etc. This also ensures that you clean every possible area of your office.
Bonnet Cleaning is Good, but Not Great: Hotels and businesses can certainly benefit from bonnet cleaning, but this only cleans the top layer of the carpet. In fact, any dirt beneath the carpet will end up rising up to the surface in a matter of time. This means the carpet is just going to be left soiled again. Additionally, bonnet cleaning can create a chemical residue buildup from the pressure of the machine which could potentially lock in more dirt.
Contact Professional Commercial Cleaners for Carpet Cleaning
The team at Clean Facilities Group Inc. delivers fast, efficient and high-quality results, whether it's mopping, vacuuming, carpet extracting or dusting. Our team will thoroughly clean your place of business so you can spend time managing your company. Let our dynamic commercial cleaners take the time to clean your carpets or buff your floors if needed. We use the proper products to keep the environment safe, as well as your employees. Through our training program, each and every member of our team knows what it takes to get the job completed in a timely manner while providing top-notch results.