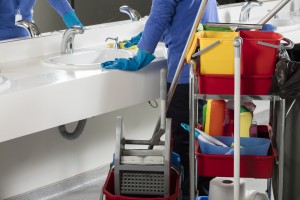 If you're still in the process of looking for a professional janitorial company in the Greater Boston Area and need some tips on commercial restroom cleaning, we've provided several tips and tricks below. Whether you have a small office with a private bathroom or a large corporate office with multiple stalls, cleaning the restroom should be done thoroughly and correctly to ensure germs do not spread.
Take Caution with a Wet Floor Sign
When cleaning the restroom, you must always have a wet floor sign available, whether at the entrance or surrounding the area you're cleaning. If you do not post this sign, there could be serious injuries which your company is liable for.
Refill Supplies Daily
There's nothing more frustrating than not having paper towels to dry your hands or walking over to the sink only to find there is no soap. Make sure supplies are always fully stalked for employees, especially toilet paper. You don't want to lower office morale from something as frivolous as restroom supplies.
Sinks & Countertops Must Be Cleaned
While this may seem obvious, some cleaning companies will only give the counters a quick wipe. You should use disinfectants and sprays designed for the bathroom to rid the bathroom of germs. Don't forget to clean the mirror as well!
Ring Out Rags
When chemicals are dispersed into rags, it's critical to ring these out after use to drain out any excess. Rags should also be placed in a container separate than other cleaning materials such as cloths, mops, sponges, etc.
Use Disinfectant When Cleaning Toilets & Urinals
Always apply disinfectant to bowls before cleaning. Flush each toilet so there is no contamination, and this also lets you see if they are working properly. In regard to urinals, always wear gloves when removing debris and make sure urinal screens are replaced as needed.
Remove Sanitary Napkins
This is actually something that goes unnoticed far too often. When taking out the trash, go into the stalls to empty the trash cans that are designed specifically for sanitary napkins. Remove these and replace the liners right away.
Top to Bottom Dusting
Dusting can be a bit more complex than you may think. Following the top to bottom rule ensures everything is completely dust free.  Begin dusting the ceiling corners, wall vents, door frames and light fixtures using a long-handled duster. This can be done a couple times a week.
Contact Clean Facilities Group Inc. for Commercial Cleaning in Massachusetts
Located in Waltham, Clean Facilities Group Inc. provides the Greater Boston Area with a number of commercial cleaning services for a variety of industries. If your office, school, assisted living care community or medical building is in need of commercial cleaning. Contact us today!