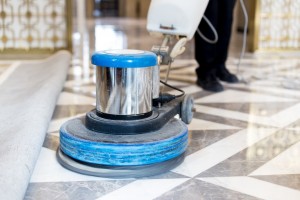 Keeping your office in pristine condition takes hard work and dedication, that is, if you don't have a reliable cleaning company to get the job done. While it's important to make sure the front entrance of your office is up to date and you have a space that is welcoming to potential clients, burnishing the floors should never be dismissed. Clean floors actually impact the overall look and feel of your business, but, how often should you burnish your office floors? Read more to find out.
Floors should be burnished every week depending on how much foot traffic and debris gets tracked inside. It is crucial that the floors are dry mopped and wet mopped every day to prevent dirt from scratching and dulling the floor surface.
Polishing Marble Floors
Marble, limestone and travertine tend to lose their shine much quicker than hardwood. In fact, marble floors can start wearing down within days if there is a lot of foot traffic. However, if dirt, sand and other debris are wiped from the floor each day, your polish is going to last much, much longer. To keep your polish in tact for as long as possible, avoid cleaners that are not specifically designed for marble flooring.
Polishing Hardwood Floors
First, it's important to note that polishing and refinishing are completely different. When you polish the floor, you're keeping the finish in good condition. When you refinish the floor, you're removing the finish and replacing. Similar to marble floors, how often you polish the hardwood floors depends on the foot traffic. These can also be polished every 2-4 months.
Polishing Ceramic Tile Floors
Ceramic tile floors can be polished every 1-4 months, but you must make sure you're routinely mopping and sweeping. Polishing these types of floors restores the protective layers and it's a quite quick and simple process.
Polishing Laminate Floors
Laminate floors are extremely popular in homes and commercial spaces because they come in a wide-range of colors, they're low maintenance and the price is very affordable. Over time, laminate floors can lose their shine so it's important to polish these every few months. Due to dirt buildup and grime, that nice shine can easily fade so make sure you're washing the floors at least once a week. Use a cleaning product designed for laminate floors to make them look brand new.
Are you in need of professional floor polishing for your office? Contact the team at Clean Facilities Group Inc. We have a commercial cleaning team ready to make your floors shine.