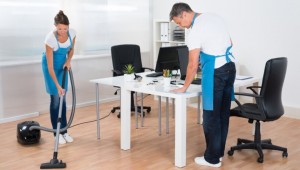 While you may be eager to grab some cleaning supplies and start wiping down your office, do you really know what chemicals are in these over-the-counter cleaning supplies? By hiring a professional janitorial team, you'll feel confident knowing your property is being thoroughly cleaned in a healthy manner.
More Time for Business
When you have a janitorial team clean your property, much more time can be freed up for your day-to-day routine. Rather than spending hours dusting, mopping and vacuuming, you can use that valuable time tending to your other needs. Your business will be much more productive when a janitorial team is taking care of all the cleaning.
Enhance Business Reputation
A disheveled work environment is not only unappealing to current employees but to future employees as well. Customers or clients might consider running in the other direction. By maintaining a beautiful office, this instills a sense of confidence to clients as your providing a healthy first impression to help build long-term relationships with future clients.
Close Attention to Detail
A reliable janitorial services team will have years of experience which means they'll do a thorough job. You'll know that you're receiving the best services and every inch of your property will be cleaned. Trained professionals know all the procedures and steps needed to ensure an in-depth cleaning of your facility.
Calm Work Environment
Employees will ultimately be much happier and calmer knowing they're working in a clean office environment. When working in a messier work environment, productivity decreases and employees won't look forward to going into work. A sanitary environment will increase your employees wellbeing, make them be productive and your establishment will be a much happier place overall.
Hire Clean Facilities Group Inc. to Clean Your Property
Clean Facilities Group Inc. has years of experience cleaning a wide variety of offices, medical buildings, schools and universities in Massachusetts. Contact Clean Facilities Group Inc. at 781.894.4828.